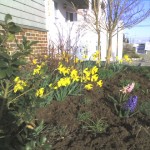 A sunny weekend after several days of rain.  It's windy, but temperatures are mild at the shore. Even better weather expected tomorrow.
Nice to finally see color around the island- spring flowers, green grass, and budding trees. 
Uncle Bill's in Stone Harbor is back open 7 days a week (the Avalon restaurant is open year round), and we are seeing more "Open" signs on the weekends around town.   The old Henny's building on 97th Street is getting a facelift in preparation for the Mother's Day weekend opening of BlackFish Restaurant.  Avalon Coffee, The Concord, and Windrift are weekend options, too.
Glad to see the return of businesses and people!