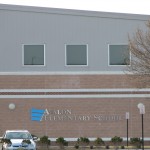 The first annual Avalon Elementary Reunion was held tonight at the Windrift Bar.  The main purpose- raising funds for a community track/ fitness stations in the school yard.
A large turn out, with a mix of parents, local residents, and alumni.  Great to see familiar faces and "not so old" former classmates!
My 7th grade class is featured on the Just For Fun page of the booklet- 23 students with really bad hair

P.S.  Received a call today that I won 2 silent auction gifts Saturday night.  Thank you to the reunion committee and the generous sponsors!