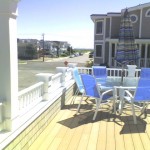 During the past 30 days, 20 properties SOLD on the island; with an additional 46 sale pending (settlement in the near future).
The sold properties ranged from $310,000 for a hotel/condo on 79th Street, to $2,815,000 for a large custom home on 65th Street.  There were 16 sales in Avalon, and 4 in Stone Harbor.  11 were single family homes; 9 condo/townhouse units.  4 beach block; 3 bay front.  The median selling price was $1,277,500.
Of of 46 sale pending, 16 are in Stone Harbor; 30 in Avalon.  The median list price is $957,500.