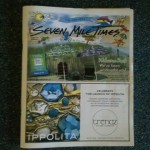 A must read:  the heartbreaking Memorial Day tribute written by Dave Coskey for the current issue of Seven Mile Times.
PFC John F. Kihm, a long time summer resident of Avalon was killed in action on April 19th, 2011.  He was only 19 years old.
A fitting reminder that Memorial Day is not just about the start of our summer season.