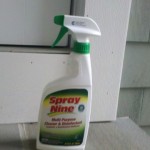 This is not meant as a product endorsement…just a helpful tip for a common problem with the newer shore homes.
Vinyl Azek products are very popular as an alternative to exterior wood trim.  Yet with our damp environment, the vinyl is still subject to mildew- especially on the rough cut side of the piece.
We use Spray Nine (sold in the local hardware store), and it effectively cleans and kills the mildew, without bleaching the adjacent siding. 
So, now for my crazy homeowner confession: I was out spraying the trim and deck railing early this morning before the rain.  This way the cleaner had time to soak before the "power washing" of our rain storm!