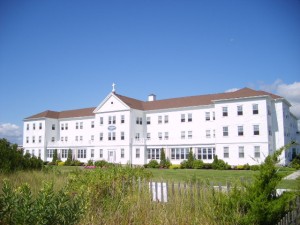 The stately Villa Maria by the Sea retreat house celebrates its Diamond Jubilee Year in 2012.
As a special thank you to the community, the Sisters are opening their summer home to the public on Saturday July 21st from 11am to 1pm, and again on Wednesday, August 22nd.
Tour the huge beach front building and manicured grounds, and catch up with the wonderful women in residence.
Oh, and don't go with empty pockets.  You will be "encouraged" to purchase Nuns' Beach wear, or make a kind donation