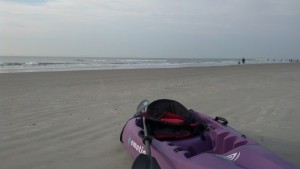 A few tips for those interested:
I initially started kayaking on the bay in an open hull boat.  The owner of Harbor Outfitters recommended this style because it's reasonably light weight, stable, and I stay dry (especially important when I go out in the spring and fall).
A few years later, I ventured out in the ocean when the woman renting a neighbor's property asked if we wanted to buy the "purple monster" (pictured) after her vacation.  She had purchased it new just 2 weeks before, but did not want to take it home.  The boat's nickname should have been a clue!
The ocean kayak is a solid, sit on top model. It's heavy (when it hits you) and you definitely get wet!
So when to go?
For the bay, high tide is the main preference.  I love when the bay looks like a sheet of glass; however the still air can also mean the gnats will be brutal.  A light breeze and a calm bay are ideal.  The current in an open channel can be rough- so paddling around the basins is a safer bet.  For me, it's a fun perspective of the homes.
On the ocean, my preference is low tide, and "lake like" conditions.  Others may prefer the waves, but that's not my skill set

   Early morning seems to work best- calmer winds…and dolphins!
Bay or beach, I ALWAYS wear a life vest.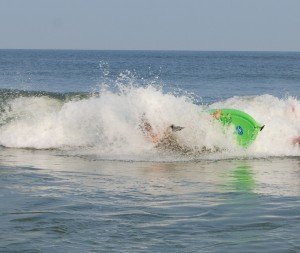 P.S.  Decided to re-post a picture from last summer.
This is my sister who made the comment about securing (prescription) sun glasses when kayaking in the ocean.
Wonder why??
Only funny when it happens to someone else