Repeating this post-
The extreme cold temperatures are freezing pipes in occupied homes and businesses (including our office!).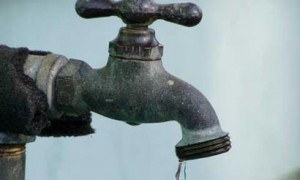 A "check list" time of year – preparing your shore house for colder temperatures and the WIND!
Drain the outside shower and non-frost proof faucets (FYI- most water faucets on upper decks are NOT frost proof).
Disconnect hoses from all outdoor faucets (even the frost proof type-  water in hose will freeze and cause damage to faucet).
Close crawl space vents (air flow is essential in the summer months to keep the crawl space dry- but  cold air will freeze pipes even if the house is heated).
Set the heat between 55 and 60 degrees.  Open cabinet doors under all sinks to allow warm air to circulate around pipes.
Turn off the ice maker in the freezer.  This water line from the sink to the freezer is susceptible to freezing and water will continue to run if the ice maker is set to "on".
Lock all windows- especially casement style with a crank (the wind will rattle the window, allowing it to open and possibly blow out).
Secure storm doors, outside shower doors, and trash cans.
Store or secure outdoor furniture and the grill.
Ideally, hire a local property watch service to regularly inspect the property during the winter months.  The inspector can turn up the heat during especially cold periods, and trouble shoot potential problems.
And then…think spring