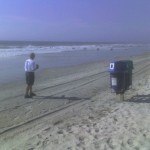 After 2 years of discussion and planning, the Stone Harbor beach fill is ready to begin.   The dredge will travel from Sea Isle City to Hereford Inlet (North Wildwood).   The State will determine if the next phase will be Stone Harbor or North Wildwood (both are scheduled).  Borough officials are hoping to follow North Wildwood so that the beach season is not interrupted.
The staging area will be on 111th Street.  Dredge pipes will be extended as the beach fills works it's way north to 98th Street.  Approximately 3 blocks will be closed at a time in the immediate work area.  It's a 24/7 operation, pumping sand for a total of 9 days.
The $2.5 million project is cost shared with the State of New Jersey:  75% State, 25% Stone Harbor.  245,000 cubic yards of sand will be added.  The removal of the outfall pipes is a separate project- that work will begin late fall or early winter.