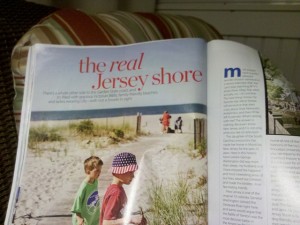 Nice feature piece in the July/August edition of Coastal Living Magazine about the Jersey shore- specifically Cape May, Avalon, and Ocean City.
One critique of the Avalon section- not sure why the author would plug a hot dog stand on the beach at 59th Street in Sea Isle City when writing about the beaches in Avalon? Just don't see the Avalon visitors crossing the bridge for a lunch time snack 

Otherwise, fun to see our area receive positive press.  We all know that the New Jersey reality shows are anything but real…glad Coastal Living took the time to share that with the outside world, too.
P.S.  A promotional video by the Avalon business community recently posted: http://www.youtube.com/watch?v=pg4PYzBBdkg     You will be singing the catchy tune all day