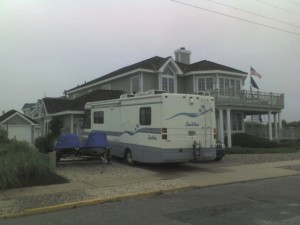 Those of us who live here full time or in the summer find it entertaining to watch the rental properties in our neighborhood. 
Every Saturday, a new family arrives to make claim to their shore rental home.  It's like a different TV series for us each week (sounds pathetic…but it's true).
The tenants intrigue us with their "toys" (like the motor home AND jet skies above), fancy cars (as long as they don't park in front of our house!), and gatherings on the deck. 
And then they sadly pack up the following week, and the cycle starts all over again.