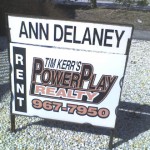 Our 2012 rental season is off to a great start.  Tenants are booking early to secure just the right spot for their shore vacation.
If you or your friends are considering a summer rental on the island, now is the ideal time to review the options:  http://www.powerplayrealty.com/rentals
Or, contact me with your requirements, and I will forward my suggestions.
An experienced agent KNOWS the property, location, and owner…and can provide additional feedback to make sure it's a good fit.
Thanks…I appreciate the business!  ann@anndelaney.com