Tomorrow, March 25th, is the 14th annual Ocean Drive Marathon.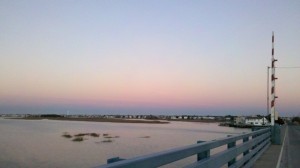 The race starts at 9am in Cape May. 
26.2 miles and 8 bridges later, participants cross the finish line in Sea Isle City.
For more race day information: http://www.odmarathon.org
P.S. Road closures in Cape May and Wildwood, and north bound lane restrictions between North Wildwood through to Sea Isle City on Sunday morning. If you get stuck, at least get out of your car and cheer for the participants!