Yes, this was our biggest check in weekend…so it makes sense to starting planning ahead for our 2014 rental season!
The expectations of a beach rental have obviously changed over the years.  A basic property is likely to be passed over in favor of the updated "Coastal Living" décor home.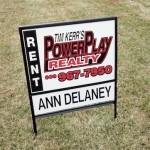 So what do tenants need/want?
Large HD televisions with full cable package (one main set, with additional sets in bedrooms)
Wireless Internet – has become a necessity
Newer mattresses/ attractive bed coverings (some owners are providing linen service to gain a competitive edge)
Newer furniture and flooring
Newer appliances- including kitchen counter top items
Air conditioning (with a service contract for prompt repairs)
Well stocked kitchen, extra light bulbs, some paper products, cleaning products, and bug spray (for the common summer ants)
Comfortable deck/porch furniture
Grill with a wire brush to keep it clean
Extra trash/recycle cans (the average home needs 3 cans for regular trash, and 2 for recycling items)
Welcome Book with information & instructions (especially regarding the electronics)