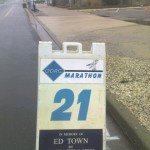 The 26.2 mile run from Cape May to Sea Isle City is underway.  Today's weather is standard fare for this race (maybe because it's  scheduled for March??)
But, there is good news:  the winds are from the south- giving the runners a bit of a push along the way; and the air temperature is 50 degrees, so the rain won't feel as biting as in past years.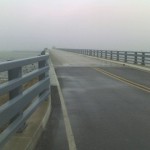 For truth in journalism, I walked part of the course before work.   I was tired after 2 miles…can't imagine the remaining 24.2!  The runners start in Cape May along the promenade, and cross each foggy, Ocean Drive bridge connecting the barrier islands.
For race specifics and results:           http://www.odmarathon.org/