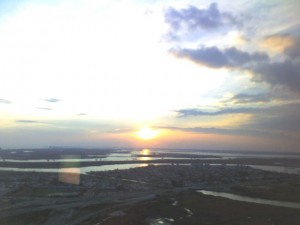 We recently won an over-night stay at an Atlantic City Casino/Hotel at a local charity function.  Even though we live just a short drive away…it's a completely different "shore" experience.
The Atlantic City casinos don't want visitors to know that they are surrounded by water.  We had a nice view from our room…but that was the only time we saw daylight!
Smoking is a more prevalent than I realized.  The "smoking sections" are scattered around the casino floor, circulating the smell throughout the facility- yuck!
The Pier (formally Ocean One) has great dining options…and ocean views on the top floor. And, the outlets at the Walk offer a nice variety of shops.  Expensive parking and creepy restrooms are the biggest disadvantages.
Back home in our peaceful beach community- I prefer our low key "Jersey Shore"