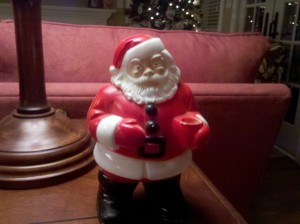 I have two "old" Santas.  One, a life size painted version proudly displayed in front of the house (his story is posted each year on Christmas Eve); and this plastic Santa.
The red light bulb attached to the electrical cord is long gone.  And like the outdoor Santa, the paint is starting to fade.
But for some reason, I smile when I place him on the table each year. 
I have newer Christmas decorations to display, but my favorites are those wrapped in memories.  The ornaments that celebrated babies' first Christmas, welcomed us to a new home (I have a collection of those!), grade school crafts, and souvenirs from far off travels.  A collection 30 plus years in the making.