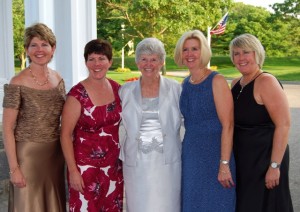 This post was originally published in January 2010.  The "girls" are another year older…and wiser??
I'm one of 4 sisters, born within a 6 year span.  A fine example of the rhythm method at work!
We were fortunate to be raised at the beach – our summer friends would ask if we had classes on the beach instead of inside a school?  We made elaborate forts in the dunes (sorry- that was wrong) and the back bay was our swimming hole.
We learned early on that a beach day is never considered a waste of time – and have passed along our love for the shore to the next generation.
As we face the 1/2 century mark together (gulp), the beach has been our constant.  It's our place to talk, laugh, walk ,and eat snacks without guilt.  And, it's the place that holds our best family memories.  
A sentimental thought for the January birthday girls…plus the oldest one in the lead since May