The equipment is in place on the 9th Street beach in Avalon, and sand will start pumping this weekend according to a Borough of Avalon press release.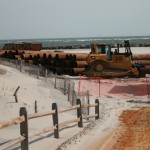 The project will work south from 8th Street to 30th Street, with beaches in the immediate pumping area closed for safety reasons.  The boardwalk will offer excellent spectator viewing once the equipment moves to that section of the beach!
For more information and regular updates, visit  www.avalonboro.org
Tuesday 4/26 Update- there are workers on site preparing for the beach fill, however, weather has delayed the arrival of the dredge from Cape May.  Sand pumping now likely to begin on Thursday 4/28.