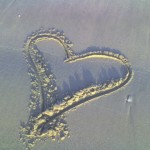 I admit to being a bit emotional when thinking about the approaching hurricane. 
The island is my life history,  my lively hood, and my year round home. 
Avalon and Stone Harbor have not faced mandatory evacuation since the fall of 1985 for Hurricane Gloria.  It's a clear memory even though almost 30 years have passed.
As of this morning, both towns are suggesting voluntary evacuations, especially for the non- residents.   Will post updates.     http://www.avalonboro.org/  or
 http://www.stone-harbor.nj.us/
Property owners have time to secure their homes: close and lock all windows, remove deck furniture, and store trash cans.  Please DO NOT make plans to stay in town to watch the storm.  You are likely to be without electricity or access on/off the island once the hurricane arrives near our coast.