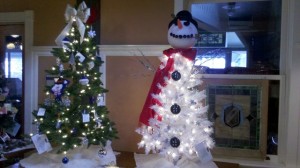 Wow! A room full of clever and unique Christmas trees donated by local businesses, clubs, and residents.
The options range from quirky to designer.  And look carefully- many include gift certificates (or Flyer's tickets!)
The preview cocktail party starts tomorrow at 5pm-  Whitebrier Motorclub, 20th Street entrance.  There will be additional time to bid before and after the 21st Street tree lighting ceremony on Friday afternoon.
11/26/11 Update- Guess which tree won the highest bid?  Our Flyers theme tree was auctioned off last night for $475!