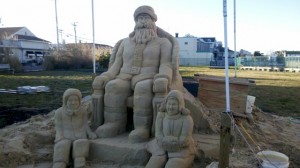 Now THAT'S a sand sculpture! "Sand Santa" is on display- 96th Street in Stone Harbor (in the open lot next to Stone Harbor Pizza).
The artist arrived on Wednesday (during the pouring rain) and worked all day.  He was back on site this morning for touch ups.
Holiday music and activities today and tomorrow in downtown Avalon and Stone Harbor.  And the weather is incredible!  Enjoy.