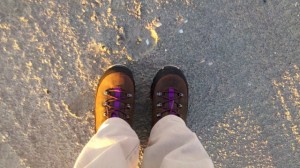 In 2008, I purchased a pair of sturdy hiking shoes for a trip to Northern Ireland.  While traveling, I realized their cold, damp weather is similar to our winter at the Jersey shore. So why not wear something warmer than sneakers to walk on the beach?
After 4 seasons of regular use, the Rockport's are ready for retirement.  The tread is worn, and (gasp) sand is somehow leaking inside the shoe.  Even though I live at the beach, sand is NOT welcome in my home 😉 
Footwear is so specific, and the sales people in the sport stores really want to help you find the most suitable shoe.  Did I sense a smirk when I requested hiking shoes for the beach?  Hey…I walk through the soft sand, and occasionally, climb over a jetty rock!
So, I spent more money than I expected, but beach hiking requires just the right shoe.  My feet are warm AND the sand stays outside on the porch with my shoes. 
Happy trails…