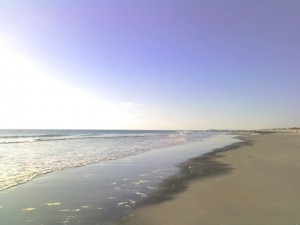 The first frost of the season for Avalon and Stone Harbor.
Time to replace the fleece jacket with the fashionable 😉 winter coat for my beach walks.
I purchased my LL Bean classic a few years ago- mainly for trips out to Colorado (our son used to live there).  It's a unique pinkish orange color, had a minus something temperature rating in the catalog…and it was on sale! 
A beautiful morning- bright sunshine, calm winds, and low tide (with a few prize pieces of sea glass along the water's edge).