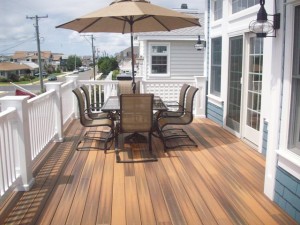 A late summer tropical storm is not unusual at the Jersey Shore.  It can be a messy day or two with drenching rain, high winds, and rough surf.
The greatest concern this time of year is preparing properties for the storm.  Even heavy duty deck furniture can take flight given the right wind conditions.  Trash cans, kayaks, beach chairs, etc. need to be secured.
Watch the weather reports- currently it looks like Saturday night into Sunday for Irene's arrival.  If you need to hire a handyman to secure the outdoor items, I am happy to provide recommendations.
P.S. Well…that was an exciting afternoon.  An earthquake in Avalon.  I was on the phone with a prospective buyer, so I didn't want to hang up

  Felt my office sway back and forth, and watched our light fixtures swing a bit.  Crazy.  Customers across the street in the Avalon Supermarket and Hoy's walked out on Dune Drive.  Really thought it was a gas line explosion- until I read the reports on Twitter.