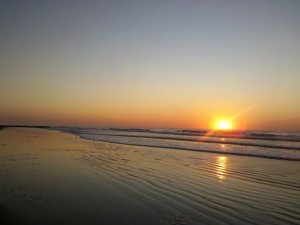 Sunrise watching- Friday, and again this morning.
The views may have been similar, but my emotional response was completely different.  
On Friday, we walked down prior to evacuating the island, and I was overwhelmed with sadness and fear.
Today, I was welcomed back by the wide (and intact) beach, dolphins just beyond the wave break, and a warm sun.  Ahhh…that's better 🙂
Back to work and inspecting a few homes before tenants move back in.  Minimal damage and only minor flooding issues.  Most businesses are back open (although I did hear that Kohler's Bakery won't open until Friday- darn) and preparing for the Labor Day weekend.