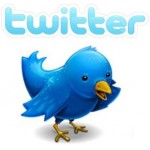 How did we exist before social media? 
I originally signed up for Twitter for business reasons, and shortly after, the blizzard of 2010 hit.  Phone and Internet were out for more than 1 week, yet I was able to deliver updates via my Twitter account.  Local property owners appreciated the information…and I was hooked.
After this weekend, I REALLY appreciate the value of Twitter.  I was connected to others evacuated from the shore, and able to read updates from those who stayed behind.  Even the municipalities "tweeted" regular updates.
A big thank you to my life lines: @CookeCapeMay (Cape May) @amysrosenberg  (Ventnor/Margate) , and @JasonNark (North Wildwood).  Their messages allowed me to provide  information to other shore family members, and have a clear perspective of the situation near my home.  You all deserve a sunny beach day!