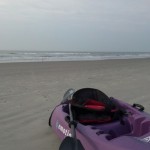 Okay…that was NOT my first thought when I crashed in my kayak this morning.
I was just starting out- and I know to wait between sets of waves for the lull.  However, this morning, the breaking waves weren't cooperating…and I decided to forge ahead.
As I was paddling out, a large wave broke over my head and turned the boat sideways.  I wasn't in deep water yet, so I scraped along the bottom (did you know you can get really sandy while IN the ocean??) and ended up below the boat.
I knew I twisted my back when I tried to get up.  Knew the boat hit my face, but didn't feel the "egg" right away.   Briefly thought about setting the purple kayak free in the ocean 😉
So, I went home with a bruised ego (of course people on the beach were watching), sore back, scraped shoulder…and a very attractive black eye.
P.S. It's been a full week since my kayaking mishap. My side is still a sore, and the black eye is fading to an ugly yellow (and can be partially disguised with make-up). The former hockey players in my office have no sympathy!
Taking a break from ocean kayaking for awhile…