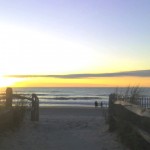 My logical side knows that I have time before the weather turns cold. Yet I'm feeling the pressure of "one last day for …."
I'm regularly checking the tide schedule to see how I can fit in kayaking before or after work.  And, definitely a few hours on the beach.  Oh, and a bike ride now that the summer traffic is gone. 
Even the daily sunrise and sunset- the colors this time of year are  so incredible…I hate to miss even one!
The burden of island life 😉