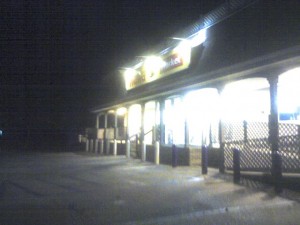 For our summer visitors, this is an incredible site:  an empty Wawa parking lot!
The locals appreciate the  businesses that tough it out through the slow winter months. 
For example-  the lights are on every night at Nemo's on 98th and Third Avenue in Stone Harbor.  Great pizza and reasonable dinner specials.
P.S.  Another year round restaurant was recognized yesterday by the Borough of Avalon.  I happened to be in Maggie's Restaurant for lunch while Mayor Martin Pagliughi presented a plaque to owners Maggie and Dan to commemorate their 20 years in business.   The mayor thanked them for their many contributions to the community over the years.   Congrats!