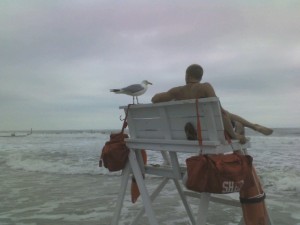 The ocean was rough yesterday- the guards appreciated the extra help 

Ideal weather and water temperatures-  enjoy the weekend!
P.S.  Heard praises today for the actions of the lifeguards last week.  2 different tenants commented on the quick response to rip tides and rough water.   The 1st case- the children didn't even sense they were in trouble, but a guard saw them drifting out and created a chain to pull them back in.  The second incident was an adult swimmer who grabbed on to a boogie board of a nearby swimmer because she felt the tug of the tide.  Within seconds, a guard was at her side to help her back in.
I see the young men and women on the stands and admire their willingness to take on such responsibility .  Obviously, they are well trained and conscientious about their job.