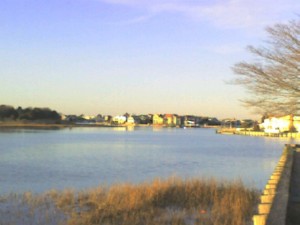 Nice weather…for December. 
Saw a great blue heron in the Bird Sanctuary (it flew away too quick for a picture).  The local volunteers are working hard to restore the sanctuary, and encourage the birds to return. 
And, saw 2 teenagers testing out their new Christmas toy: skateboard like item with 4 wheels and foot straps, and a body harness attached to an oversized a kite.  They were taking advantage of the wide section of hard sand at Stone Harbor point.  They said their goal was to stay OUT of the water!