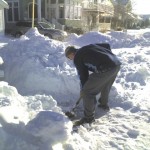 This is hard to imagine with current temperatures in the 70′s!  Yet, we know the cold weather will eventually arrive.
Is your shore house ready?  Last winter was the exception with record snow fall and extended power outages.  Unfortunately, cold temperatures and high winds are still the norm.
Exposed water pipes are at risk for freezing (outside showers and pipes under the house).  If you don't drain the inside pipes, is your heat set to at least 55 degrees?  Have you secured your outdoor furniture and trash cans?
Hiring someone to regularly inspect your property in the off season provides peace of mind.  A winter watch includes: walk through, check of all doors and windows, confirmation of functioning heater, and inspection for minor problems that can turn into a major headache if left unattended for several months.
If you need a recommendation for a reliable inspector, please let me know.  ann@anndelaney.com