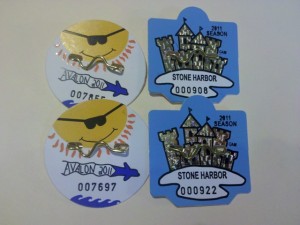 Beach tags- a practical way for seashore communities to off set the cost of maintaining a beautiful and safe beach.
The expense is shared by tourists and residents alike.
Seasonal tags purchased before May 27 cost $21 each ($26 after); weekly tags $12; daily $6.  Tags are reciprocal between Avalon and Stone Harbor, and required for those over 12 years old.
Beach tag booths open daily:  30th and Avalon Avenue; or 95th and the beach.  Tags can also be purchased from the inspectors on the beach all summer.