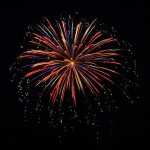 Schedules have been posted for the 4th of July weekend in Avalon and Stone Harbor, NJ.
Saturday, July 2nd- TK Charities Triathlon and Youth Triathlon (adult race sold out). 7am at 30th and Avalon Avenue.  Road closures that morning from 9th through 40th Streets.
Sunday, July 3rd- 12th Annual Sister Blister 5K and 2 mile walk. 8 am - 80th Street.  That evening, enjoy the Bay-Atlantic Symphony Concert at Avalon Community Hall at 7pm, followed by the Borough of Avalon fireworks display at 9:15pm - 30th and the beach.
Monday, July 4th- field races at the 10th Street field in Avalon at 10am.  The 80th Street field in Stone Harbor hosts a full day of family events starting at 9am.  Bring a beach chair to stake out your spot for the 9:30pm fireworks- food vendors and music add to the tailgating atmosphere