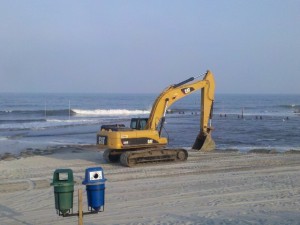 BIG weekend in Avalon and Stone Harbor, NJ. 
Great weather and Memorial Day events.
Also part of the entertainment:  the beach fill project in Stone Harbor.  As of this morning, the 107th and 108th Street beaches are next in line for new sand.  Once the areas are filled and groomed, beaches are re-opened to the public (currently, 115th Street and south). 
By the way- the water to the right of the tractor is actually pumped in sand (mixed with water to push it through the pipe).  The water drains and the sand remains.
P.S. Interesting article posted by a fellow blogger about the connection with sports figures and the Jersey Shore (including my boss Tim Kerr): http://www.goingtotheshore.com/my-blog/2011/05/local-sports-figures-at-the-jersey-shore.html 
Stay cool!