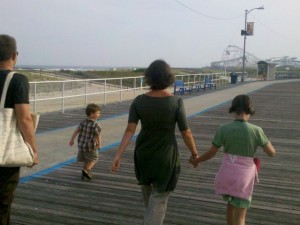 Our 2 week family visit is coming to an end 

Somehow, we have managed to squeeze a summer's worth of activities into our limited time together.
Plenty of beach days, boogie boarding, ocean AND bay kayaking, the playground, bike rides, the zoo, the bird sanctuary, and a few hours on Wildwood boardwalk for the rides at Morey's Pier (and the required boardwalk food!)
P.S. Added a last day activity- the 2 Morey's water parks.  Now, I am officially exhausted! 
Received this Tweet regarding our family activities: @AnnDelaneyBeach interesting to see where people who live where I GO on vacation, go on vacation