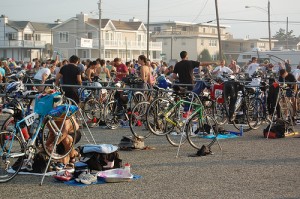 If you will be in Avalon, NJ on Saturday morning, be sure to cheer for the participants of the Islandman Triathlon.
The ocean swim starts behind the Avalon Community Hall at 7:30am; followed by the closed course bike race; and then the foot race.
For safety reasons, no car traffic is permitted on or across Avalon Avenue or First Avenue during the bike race.  The adults complete 3 laps on the bike course: north on Avalon Avenue to 8th Street turn around- south on First Avenue to 38th Street and then along Dune Drive to Bayberry Drive, and back north on First Avenue. 
The kid's bike race is only along Avalon Avenue.
Volunteers will be at the street ends to stop cars and pedestrians from crossing during the bike races.  Plan you Avalon Coffee and Kohler's run accordingly