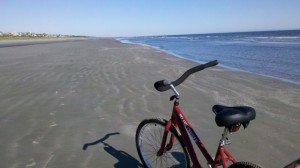 We enjoyed a family vacation last week on Kiawah Island, South Carolina.  Not surprising…we really like beach locations

A few observations: similar to Hilton Head Island, the sand is especially hard- allowing bike riding on the beach.  We would pick our destination based on the wind direction (at our backs of course), and then return on the sheltered bike paths that wind around the homes and lagoons.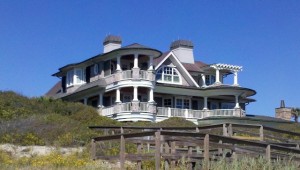 Speaking of homes – Kiawah Island definitely offers the "wow" factor with real estate.  This is one of the more modest beach front homes.  The best word to describe the structures? Substantial.  The building materials are high end and architectural details impressive.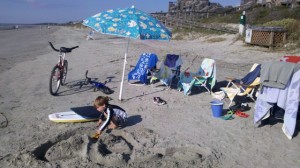 It's off season- maybe that's why our beach area stood out? Chairs, beach cart, umbrella, coolers, boogie boards, buckets…and bikes!  Looked like a Jersey shore beach day

Critters and wildlife spotted: an alligator (from a safe distance), dolphins swimming VERY close to shore, an eagle, Monarch butterflies, Snowy egret, Blue heron, turtles, and several deer.   
Back on "our" island after a fun week.