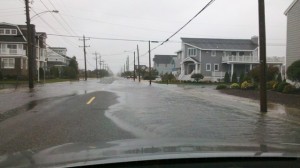 Anyone who has worked with me to buy a property in Avalon or Stone Harbor knows that I can be a bit obsessive about flooding.
Unless you are here during a storm, it's hard to picture roadways and yards covered with water.  Like today, for example!
Fortunately, most of our flooding events occur in the off season.  Yet, I always want buyers to be aware of the issue.   
That's why driving around on a day like today is important (and frankly, fun). I see first hand which streets and locations are vulnerable to flooding.
Good news:  the water is receding from the earlier high tide.  A salt water rinse for our island!
Stay dry