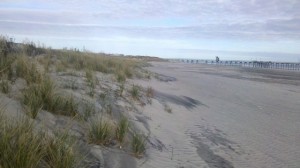 Avalon, NJ will stabilize the beaches between 18th and 24th Streets this winter with sand borrowed from the south end.
The project will be carefully monitored by officials from the U.S. Fish and Wildlife Service, as well as the Army Corps of Engineers.
Beach areas between 32nd and 60th Street will not be disturbed – protected piping plover nesting area.
For additional information: http://www.capemaycountyherald.com/article/government/avalon/78905-avalon+preparing+beach+fill+project