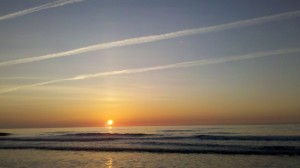 A few of my local sunrise pictures remind me of my sunset pictures from Hawaii.
Before we traveled to Hawaii, I had a vision of "Hawaii" as a whole-  not understanding that the individual islands are so different and offer unique environments.
The same can be said for the "Jersey shore".  Cross each bridge connecting the barrier islands,  and notice the differences in architecture, commercial development, green scape, and overall vibe.   Our personal preferences determine our favorite beach community.
And like the islands of Hawaii, there is certainly something for everyone along the New Jersey coast.  Of course, I am partial to Avalon and Stone Harbor