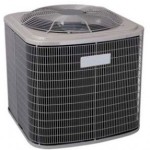 R

e-post from last summer- basic info still applies!
Yesterday, there was water leaking into our office.  Hard wired smoke detectors in the path of the water shorted out, and blared off and on for several hours (fun on a Saturday change over day!)
The cause?  The inside air conditioning component (the blower) for the condo above our office iced up and shut down (occupants complained earlier that the A/C stopped working).  When this happens, the ice has to melt (and drain somewhere) before the HVAC can be repaired.
Unfortunately, we see this issue every summer (with refrigerators AND air conditioning units)- especially when the humidity is high.  A tenant/visitor arrives to a property, turns on the air, and cranks down the thermostat (believing that the house will cool faster if the thermostat is set at 65 rather than 72 degrees). Much to their frustration, the unit freezes up, and shuts down.
Similar circumstances with refrigerators. The empty space is loaded with room temperature food.   The cool air escapes while the door is open.  And when it doesn't seem cold enough a short time later, the tenant/visitor turns the dial all the way down.  Like the HVAC system, the appliance freezes up and shuts down.  Turning the dial back to a medium setting is the solution.