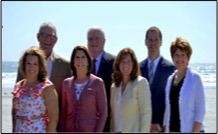 While creating a new ad for the office, the agents/staff of Tim Kerr's Power Play Realty agreed that our tag line should mention relationships.
We are a small office, yet manage to retain an impressive market share.
One strength is maintaining long term business relationships with our owners and tenants.
Yesterday, I tweeted about an emotional goodbye to property owners selling after 34 years in Avalon.  I helped them purchase the home in 1982.  Now I am helping them sell in 2016.  It's an honor to feel their trust.
Today, a past tenant stopped in with relatives who are now renting with me.  We first met in 1997 when I showed her a small apartment to rent for the season.  Her family rented the same place for almost 10 years.  She thanked me for "changing her life".  Her summers in Avalon set the stage for enduring friendships.  One daughter married a young man from Avalon.  Her other daughter started a career in fashion from a job at the local surf shop. Wow…the visit made my day.
So, it's not just sales and rentals…it's experiences and memories.  We understand that aspect of our job, and work hard to earn your confidence.

2821 Dune Drive, Avalon NJ 08202
609-967-7950    ann@anndelaney.com