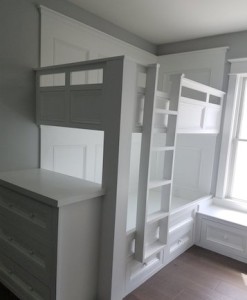 Recently, I posted a picture of built in bunk beds on Twitter.  Bunk rooms have become a popular addition in many new construction homes.
The post prompted a few questions about what's permitted under the rental license guidelines.
Bedroom occupancy is based on fire codes, and requires 50 square feet per person.
If a bedroom measures 100 square feet (a 10′ x 10′ room)- occupancy limit of 2
150 square feet – occupancy limit of 3
200 square feet- occupancy limit of 4
If you are thinking about changing beds in a particular room and/or adding bunk beds, make sure the dimensions will allow the additional sleeping spaces.
Also, be sure the beds do not obstruct the egress windows.