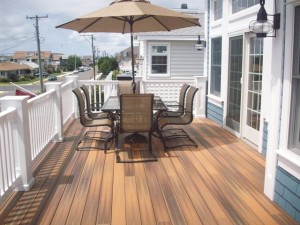 This is the ideal time to "spring clean" and prepare your shore house for the summer season.
Walk through and around your property with a tenant's perspective.
As an owner, it's easy to ignore the imperfections that should be addressed before your guests arrive.
Tips:
1) Clean out all cabinets and drawers in the bathrooms and kitchen.  No more than one junk drawer permitted!  Organize and take note of supplies needed…and toss the accumulated old menus, miss matched Tupperware containers, melted plastic utensils, old wooden spoons, rusty cookie sheets, etc.
2) Tenants appreciate a chair or bench in a bedroom to use while getting dressed or putting on shoes.
3) Although the younger generation will retreat to their rooms and use their devices, the more mature tenants still appreciate a television with cable hook up in a bedroom to watch a ballgame or news program.
4) Inspect the condition of the deck furniture, cushions, and grill.
5) Clean, clean, clean.  My favorite products are a Magic Eraser to remove scuffs marks on walls and trim; SprayNine to remove the green stains on exterior vinyl siding, trim, and railings (and the outdoor shower), and car wax or RainX to remove the water marks on glass shower doors.
Happy Spring!