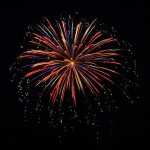 Frequently Asked Questions:
1) Will the fireworks go off tonight?  Yes, unless it's pouring rain and/or thunder and lightning storm.  Will share updates on Twitter.  9pm in Avalon at 30th Street beach; just after 9pm in Stone Harbor at 80th Street beach.
2) Any parking tips? Sorry, this is the weekend to walk or ride your bike!
3) Will Kohler's run out of cream donuts? Probably

4) Is it worthwhile to shop for groceries on the island rather than going out to the Acme?  Definitely!
Have a great weekend!