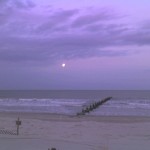 Easter, Mother's Day, and Memorial Day- all target dates for the return of activity at the shore.
 Owners are starting to arrive for the holiday weekend- good to see more houses with lights!
Beautiful here today.  The official full moon is tonight- a great excuse for a walk along the beach at sunset. 
For a beach experience on Easter Sunday, the island churches participate in a community sunrise service- held at the 88th Street pavilion at 6:15am.