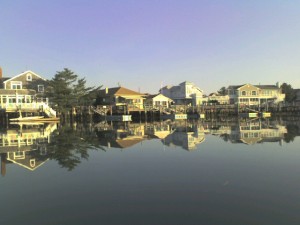 Seashore double vision- the bay front homes reflecting off of the calm water in the early morning sun. 
Took advantage of our summer like weather and kayaked for the 1st time this season.   Very peaceful…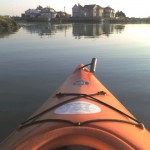 No boat traffic or bugs…but the bay is still cold.  I stay close to the docks in the event of an oops!
What an odd month- record rain fall, freezing temperatures, severe thunderstorms, a nor'easter or 2, and now a heat wave.  
Celebrate May at the Stone Harbor Boat & Craft Show next weekend.  All day Saturday and Sunday along 96th Street- food and music, too.