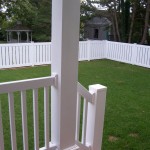 In the past,  if you saw a home on the island with a lawn, it was likely a year round residence. 
My father treated our front yard in Avalon like a formal living room- it looked beautiful and you weren't allowed to use it.   We didn't dare cut across the grass, or even worse, play on it. That's why we had a back yard (wait, thinking back, he sent us around the block to play kick the can!)
Today, many of the new homes have a grass area- even if it's just a small patch in the front yard.  
Bringing me to my observation…there are more landscaping trucks around town than contractor's vehicles.   
The grass,  trees, and flowers distinguish us from other seashore communities.  Take note of the center islands along Dune Drive in Avalon and Second Avenue in Stone Harbor- all manicured like a prized front yard.